On a typical day, father(Russel) and son(James) were spending time as they always do, when James accidentally dropped his father's iPhone 6 and it crashed to the ground. It was functional but had a massive crack that ran across the screen. Fortunately, Russel happens to be one of our old customers.
They decided to drive down to our facility and let professionals handle this predicament they were facing. A quick pre-quality check was done to see if other parts were damaged before proceeding on the repair. Then the screen was replaced in under 20 minutes and the iPhone 6 was brand new once again. A complimentary screen protector was applied, a complete post repair checkup was completed and of course and the day became happy once again.
Russel had discovered us 3 years ago, on Google and we are happy to say that he chooses us each time when he has a requirement because of our superior expertise, original parts and excellent customer service.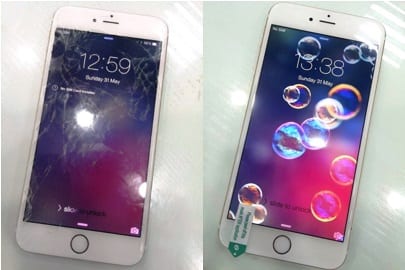 Anthony was in Europe 2 months back and enjoying his stay with his family.  He was playing around with his son while holding his iPhone 6 plus in his right hand at the same time.  Then suddenly his iPhone 6 Plus went flying to the ground resulting in a shattered screen. Once he was back in Dubai, Anthony consulted his friends to recommend a company that used only genuine parts and had a professional setup for iPhone repairs. We are happy to say one of his friends recommended it as the ideal choice.
He then visited us at our service center to fix his iPhone 6 Plus screen. After following our standard procedure that includes a pre-quality checkup, replacement of the LCD screen, and then a post-repair checkup, he was iPhone 6 Plus was as good as new in under 30 minutes. As always, we placed a complimentary screen protector and smile on his face.
Anthony told us that he will recommend us to his friends and will absolutely use our service again for his future Apple device repairs.
Give us a call if you too are faced with such situations and experience your pleasant repair story with us.